You won't usually find SkinCeuticals at Walmart, Selfridges, or any other retail stores, unless they have a beauty stand with an Advanced Skincare Professional trained in SkinCeuticals to recommend the right products. They prefer customers to be recommended the right products for their skin, before they buy skinceuticals skin care products.
Luckily for you, I am trained in SkinCeuticals Advanced SkinCare Products.
I wouldn't advise buying them from anywhere other than SkinCeuticals directly, as they may be counterfeit products if purchased from elsewhere.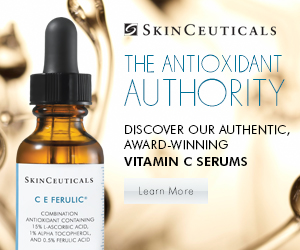 What is SkinCeuticals?
SkinCeuticals are the Number 1 Medical Aesthetic Skincare brand in America. They aren't your average skin care products.
They're Pharmaceuticals meaning the products are a combination of cosmetic products and pharmaceutical products. Like some medicinal drugs, not all of the products can be brought over the counter because they have drug-like effects, and can only be used by Professionals.

Where does SkinCeuticals come from?
Skinceuticals was founded by the late great Dr Sheldon Phinnel, known as the "Founding Father of Topical Antioxidants". A Dermatologist, Scientist, Professor and Skincare Chemist. His ground-breaking work to improve skin health lives on with SkinCeuticals, an American skincare brand, which is now owned by L'Oreal.
"What it does is neutralize the harmful chemical reactions that occur when sun shines on skin," – Dr. Sheldon Phinnel
"90% of skin cancers & 90% of skin aging (wrinkles, brown spots and textural changes) are attributable to damaging effects of the sun." – SkinCancer Foundation
What's So Good About SkinCeutical's Vitamin C Antioxidants?
With over 30 years of research, SkinCeuticals are known as the antioxidant authority for creating the very first topical antioxidant serum. Using the purest form of stabilized Vitamin C (L-ascorbic acid) for enhanced absorption and efficiency.
A patented formula that no other else skincare brand can copy.  (That's why L'Oreal sued Drunk Elephant after they launched their Vitamin C Firma.) With millions of dollars spent on clinical trials, they know their products work. That's why they're quite expensive, because they're worth it as L'Oreal might say.
Why do we need a Topical Vitamin C Antioxidant?
We know the benefits of Vitamin C when ingested but it has so may benefits when applied directly to the skin too when it's the right formula. When you cut an apple, it oxidizes, the same thing happens to our skin on a daily basis. Applying Vitamin C directly on the skin reverses this process. You can actually drip the SkinCeuticals Vitamin C preventers on any oxidized fruit to see it work (but I wouldn't recommend wasting the lush products on that).
Vitamin C Benefits when applied directly to the skin
Cancer-fighting antioxidant
Produces Collagen
Aids growth of cells and blood vessels
Helps firm & strengthen skin
Helps skin repair itself
Lightens & brightens skin – good to even skin tone for hyperpigmentation & dark aging pots
Anti-inflammatory
Prevents & protects skin against aging
Prevent. Correct. Protect
SkinCeuticals 3 most important pillars of a Skin care Routine:
1. Prevent – Vitamin C to prevent your skin from aging further
2. Correct – Correct any skin problems you have. The "Correct" products are to be used like antibiotics, only use until the skin problem has been corrected.
3. Protect – Protect your skin from Sun damage using a SPF30 minimum with UVB & UVA / Broadspectrum.
All products have a moon or sun on the lable to indicate whether they are for daytime or night use.
For Dry Skin

C E Ferulic 
Contains Vitamin C to give your skin all the benefits mentioned above. Vitamin E to help moisturize dry skin by locking in moisture to keep it healthy and soft.
The Vitamin E is why it isn't advised for oily, acne prone skin as it can cause it to break out more. As well as Vitamin C & E, it contains Ferulic Acid, a plant's natural sunscreen to help prevent and protect your skin from skin damage and aging.
Save $136 with the complete Anti-Aging System
For Oily Skin

Phloretin C F 
With its clever combination of Phloretin, Vitamin C & Ferulic Acid, this preventer is for oily skin and if pigmentation is your skin problem. The Phloretin comes from the flesh of green apple so it really helps to brighten and lighten the skin, great for uneven skin tone. This one is my favourite.
Save $99 with the Complete Brightening System
For Sensitive Skin
Serum 10 
Great antioxidant for sensitive skin with Vitamin C and Ferulic Acid to help restore a healthy looking complexion and protects against oxidative stress. Suitable for all skin types.
How to use SkinCeuticals Preventers
It's very important to use SkinCeuticals preventers efficiently to make the most of them and help them last longer. 2-3 months they should last if used correctly.
After cleansing your skin, apply 4 – 5 drops of the antioxidant directly on to your face to cover the skin on your face and neck then pat it all around the skin.
As it absorbs super quickly into the deeper layers of the skin, you don't want to drop it on to your finger first.
Personally, I drip 1 drop on to my forehead, 2 drops on to my cheeks, 1 on my chin and then 1 on my neck before spreading the drops from my cheeks to my nose, and tapping it all around my face and neck.
Correctors
SkinCeuticals has a whole range of serums and creams to help correct different skin problems these are a couple of my favorite best-selling products.

Retinol 0.3 
You've probably heard of Retinols & Retinoids before, known to "turn back the clock on your skin" as they speed up cell turnover. The powerful, anti-aging product improves the  signs of aging and clears your skin.
It should be gradually introduced to your night-time skincare routine.
Begin by replacing your night moisturizer with it TWICE A WEEK, for the first week or so, and then increase it to everyday if your skin can tolerate it. Remember Retinol is a loner product, it doesn't work as well when used after serum.
Retinol 0.3 is great start for first-time retinol users. Retinol 0.5 and Retinol 1.0 is available if you've used Retinol before.

H.A. (Hylauronic Acid) Intensifier 
Some get scared when they hear the word acid but Hylauronic Acid is a natural acid that our body's our born with. That's why when we're babies, our skin is lovely, soft and plum, because it's full of hylauronic acid. But as we get older, this is one of the things our skin loses. H.A. Intensifier is clinically proven to restore plumpness, elasticity and firmness. Great for the crow's feet area and any other deep lines or wrinkles. It can even be used to plump the lips (forget about dermal fillers).
Final Say
There's nothing bad I can say about them. They are quality products.
They may be more expensive than other brands but they're worth every penny after how much research was put into making them. When you buy directly from their website, you receive a complimentary sample which is worth more alone than some other brand's full sized products.
Each full sized product should last 3 months if used correctly.
Now you know where to buy SkinCeuticals skin care products, and why to buy incredible products.
Some other articles you might like: